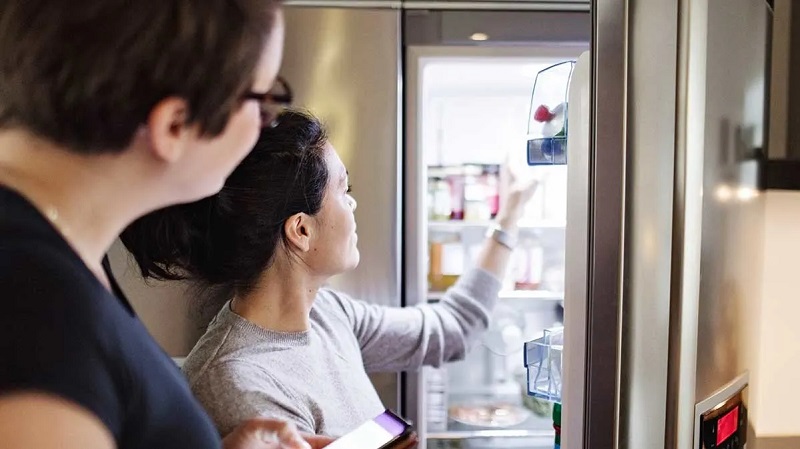 Refrigerator maintenance if done right, can extend the lifespan of your appliance lasting you much longer before you actually need to buy a new one. Since refrigerators don't come cheap, it would only be wise to follow good refrigerator maintenance practices.
We have whittled down 5 easy ways to increase the lifespan of a refrigerator:
Keep it Away from Heat
Keeping the refrigerator closer to spots releasing excessive heat, such as near the gas stove, sunlight or microwave, puts extra stress on the compressor of the refrigerator. The compressor will get damaged easily in such conditions. Preferably keep it in a room with lower temperatures to ensure reduced strain on the compressor. This also helps in regulating the refrigerator temperature control.
Avoid Dumping Things on Top of the Refrigerator
As much tempting as the space available on top of the refrigerator may seem for storing random things from the kitchen, avoid doing it. The fridge is designed to release hot air from the top and back. Blocking these surfaces will trap the hot air and affect the cooling impact of the fridge. So find another shelf to store those cereal boxes and let the refrigerator efficiently do its job!
Bring Food to Room Temperature Before Placing It Inside the Refrigerator
Keeping extremely hot food immediately inside the fridge is not a good practice for good fridge maintenance. This is because, the refrigerator has to exert extra to cool down the hot item. This can be easily avoided if you simply let the food item attain the room temperature before shifting it inside the fridge for cooling.
Neither Overfill nor Underfill
Ensure that the refrigerator is neither over packed with food items and vessels nor left too vacant. Maintaining a good balance is vital for better efficiency of fridge as overfilling the fridge will obstruct air flow whereas leaving it too empty will make it difficult to maintain a consistent temperature inside the fridge. This can be avoided by getting a fridge of appropriate capacity. Moreover, some people tend to stack containers one above the other inside the fridge which again only interferes with the air circulation.
Regularly Clean the Refrigerator
Make it a point to periodically scrub and clean the interior compartments with warm soapy water to avoid accumulation of particles. It is imperative to understand how to clean a refrigerator as you have to be careful while cleaning an electrical appliance. Keeping a bowl of lime water inside the refrigerator for a day helps absorb the bad odor and keep the appliance fresh. Keeping any appliance clean definitely helps ensure a longer lifespan.
Let's have a look at some of the top brands of refrigerators and their products:
Whirlpool
Whirlpool 245 L 2 Star Frost Free Double Door Refrigerator Arctic Steel
The highlights of this model include double door and frost free feature. It is top mounted and holds a capacity of 245 L.
Whirlpool 215 L Direct Cool Single Door Refrigerator Wine Electra
The highlights of this model include single door and direct cool feature. This Whirlpool Refrigerator holds a capacity of 215 L and boasts of a 6th Sense Freshcontrol Technology.
LG
LG 188 L 3 Star Direct Cool Single Door Refrigerator Dazzle Steel
The highlights of this LG refrigerator model include single door and direct cool feature. It is top mounted and holds a capacity of 188 L.
LG 308 L 4 Star Frost Free Double Door Refrigerator Scarlet Plumeria
The highlights of this double door fridge is its direct cool feature. It is top mounted and holds a capacity of 308 L.
All of these and many more models can be easily purchased with EMI.
Finserv Markets, from the house of Bajaj Finserv is an exclusive online supermarket for all your personal and financial needs. Loans, Insurance, Investment and an exclusive EMI store, all under one roof – anytime, anywhere!