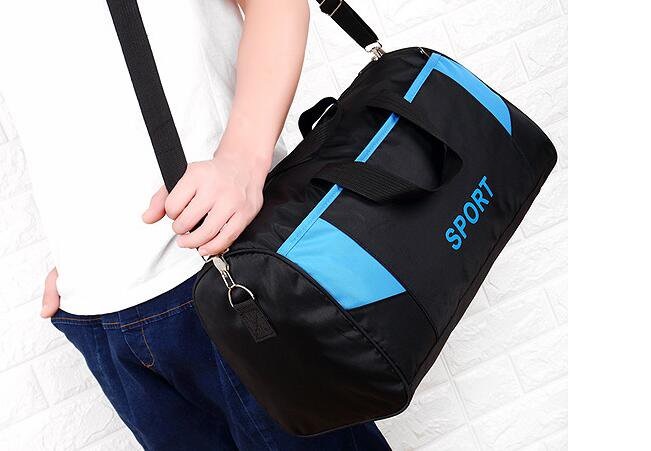 Personalized sports bags make great swag ideas for all kinds of sporting events like soccer games, football games, yoga conventions and more! Studio D Merchandise has a variety of shapes, sizes and designs to choose from so you're bound to find what you're looking for. Here are a few of our favorites.
Duffel Bag With Zippered Front Pocket
This promotional bag provides athletes with a spacious interior to fill with gear and nutrient-rich snacks in addition to a large zippered front pocket and two side mesh pockets. A special pocket inside will protect media devices and smartphones and the shoulder strap can be adjusted to the ideal fit.
Mesh Pocket Drawstring Bag
Our mesh pocket drawstring promotional bag is lightweight, easy to carry and store and can be easily adorned with your logo. Perfect for quick trips to the gym, an extra change of clothes or sports gear, this bag comes in a variety of colors and brags an extra front pocket for additional storage.
Yoga Mat Bag
This logo printed yoga mat promotional bag is perfect for yoga conventions, teacher certification events or yoga studio gift shops. Complete with a special spot for your yoga mat and towel, this bag is both stylish and efficient.
Miscellaneous Promotional Items
If you don't want to get stuck in the realm of "sports themed" promotional items, these additional swag ideas will get you thinking outside the box to reach even more consumers and gain customer loyalty by marketing your brand.
Bluetooth Stereo Promotional Headphones
Our wireless Bluetooth headset is a popular choice when it comes to promotional headphones. Use them to listen to your favorite tunes or enjoy the benefits of handsfree phone calls – either way, these custom headphones are a great promotional item.
Pop Top Soccer Ball Pen
Unique and amusing, this pop top soccer ball promotional pen is perfect for customers of any age and serves as a memorable reminder of your company. Boost your marketing with these pens for fundraisers, sports teams, retail stores and more.
Still need more swag ideas for your next sporting event or fundraiser? Give Studio D Merchandise a call today for more suggestions and price quotes.