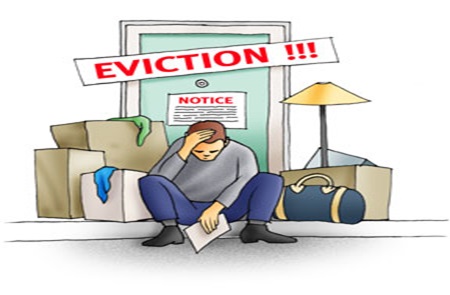 Some landlords are afraid of certain things when they are evicting a tenant. Even if an eviction does not result in the tenant causing property damage, evictions can create stress, and tenants can even fight the eviction in court. The best things landlords can do to avoid future evictions is to do thorough credit checks, criminal background checks, a check on eviction history, and whether a prospective tenant has enough income to meet the rent every month.
Landlords who work full time often do not have the time to do evictions themselves. If you don't employ a property-management company or have a manager on site, you can save money by hiring a lawyer to do a quick eviction. The eviction process can be costly, but it can cost more to have a non-paying tenant freeloading on your property or doing more property damage.
True Cost of an Eviction
There are some financial issues you need to consider if you are in a situation where you need to evict a tenant. For a landlord doing it himself, legal eviction can be a costly and time-consuming matter. Express Evictions can show you how much you can save on an eviction, and pay one sum that covers filing paperwork, legal fees, and court costs. And this is important: Express Evictions, practicing in California, gets evictions done right the first time.
When landlords rent to the wrong tenants, they do not want to lose thousands of dollars on unpaid rent, property repairs, and eviction-related expenses. The following are several ways to make certain you get good tenants whom you will never need to evict:
Do a Thorough Screening
You certainly need good tenants if you want to sustain your income. Eighty-four percent of landlords say that the main problem with renting to new tenants is that some don't or can't pay the rent. As a landlord, you need to check the history of your previous tenant's evictions because it will help you to reduce the risk of future evictions. Prevent the need for evictions by doing a simple check whether the prospect has prior evictions. If they have been evicted before, they may pose a risk.
If you want to prevent costly evictions, you can check the tenant's history as a tenant. Conduct thorough a screening of potential tenants that includes checking on whether they have a history of eviction, whether they caused problems with previous landlords, whether they habitually paid the rent late. Avoid taking on a tenant who has had an eviction or was a problem tenant. It could spell trouble in the future.
You want good tenants who have a proven record of not disturbing the neighbors, not damaging property, not committing crimes, and who will pay the rent on time. Screenings can help you find such tenants.
A Cost-Benefit Analysis of Tenant Screening
As a landlord, you can decrease the risk of bad rental outcomes, including delayed rent payments and early tenant turnover, etc., only through a thorough tenant-screening process. When you break down the cost of doing a screening and compare it to the potential loss incurred by bad tenants, you learn how useful the screening package is. A screening that costs less than $100 can save you hundreds or even thousands of dollars in eviction costs, lost rent, property damage, etc.
Verify Tenant Income
In order to reduce the risk of needing to evict someone, the most important thing is to ensure that the applicant has sufficient income to pay the rent. A starting point is to use the 3: 1 income industry standard as a starting point for determining if your applicant has enough resources to pay the rent. It takes only a bit of your time or your property manager's time to check whether an applicant needs to prove further evidence of income or assets.
Some landlords think that they do not have enough time for tenant screening. As a landlord, if you do not thoroughly screen your tenants, then you are putting yourself at risk of possibly costing yourself more time and money.
Criminal Background Checks Reduce Risk of Evictions
A landlord can complete the entire tenant screening process through credit checks and eviction reports, known as background checks. A review of the applicant's crime history, eviction history, and credit reveals a lot about who they are, their ability to pay, the relevant risks associated with renting to them, and so on.