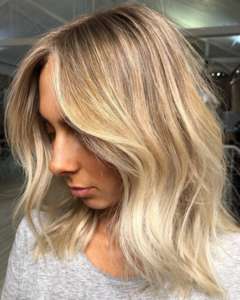 https://www.instagram.com/p/BlG3qNnBSyo/
Medium layered hair is the ideal solution if you want to get rid of some of the length of your hair without getting it cut drastically short. And layered haircuts are very in right now. Layers can add a lot of bounce and life to your longer tresses!
If you are looking for some style options for layered mid-length cuts, you can read more here. You will love the way your shoulder length to mid-length locks feel with a trendy mid-length layered hairstyle!
Advantages of Mid Length Haircuts
Medium layered hair is flattering to every face structure and complexion.
Mid-length cuts require less maintenance than shorter hairstyles. With a short haircut, depending on the style, you need a trim every 4-6 weeks. With shoulder-length hair, you can wait a bit longer to get a trim.
Medium layers are versatile. You can still wear your hair down or you can pull it up in a half-do or updo. You can also braid it, curl it or leave it straight.
You can go longer between shampooing your hair. Dry shampoo and leave-in conditioner are great ways to keep your hair healthy and shiny between washings.
Mid-length haircuts are so much fun to accessorize with hats, headscarves, clips and the like.
Medium length haircuts are the perfect canvas to play around with hair color options such as balayage, ombre fades, highlights and such.
Now that we sold you on mid-length haircuts, here are some reasons to add layers to your trendy new do!
Pros of Medium Layered Haircuts
Medium layers will add a ton of volume to thin or fine tresses.
Medium layered hair will remove some of the dead weight from longer hairstyles.
Mid-length layers add new life and bounce to those who were blessed with curly or wavy locks.
Your hair will dry much quicker with layers.
Layers are a good solution to get rid of dead and split ends.
If you are looking for a new hairstyle, without getting rid of all of your lengths, mid-length layers are perfect for a sexy new style
Layers add texture and depth to your hair. And it looks especially stunning with colored hair!
Your hair will not be as prone to knots and tangles.
With a mid-length cut you can still wear your hair back or up. You can also leave some loose mid-length tendrils to frame your face for a soft, feminine vibe.
Both long and short layers are flattering on a mid-length hairstyle!
Layers can add lift to your hair to make it fuller.
Layered mid-length hair is a great way to update your boring old hairstyle! Plus it's super sexy and chic!
And the best part of medium layered hair is that if you don't like it, you can always grow it out!
Do you think you can rock medium layered hair? Are you ready to say goodbye to dull, limp tresses with a sassy mid-length cut with lots of layers? Call your stylist today to embrace your fun new look!