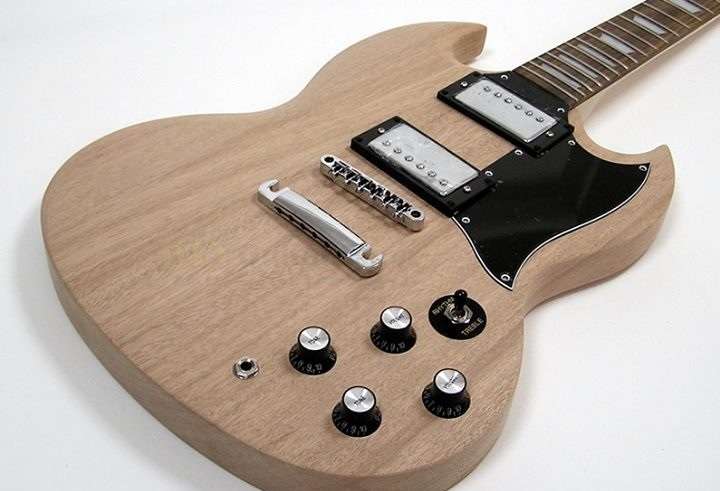 With all of the different kits available through different sources, a lot of players are asking, "Are DIY electric guitar kits any good?" This is a legitimate question; most players lack a certain skill when it comes to putting them together, especially those who have never a kit together. There are also all sorts of issues given the lack of quality assurances in some kits. As such, for some players, especially those just starting out, it can be a great question to ask, and one that needs to be answered.
The Considerations
A DIY electric guitar kit has two major advantages: First, it is generally cheaper than a guitar that has been built in a factory; as the factory only needs to put the parts into a box, it saves on labor and component costs and those savings are passed on to the kit builder. Also, a kit allows a kit builder to create exactly the guitar that they wish to create; they can combine parts from different makes and models, even deciding on exactly the right body; this can create exactly the right sound or appearance that a person desires. The savings and customization make kits something worth looking into for players.
Are Kits Better than Pre-Built?
The best response, unfortunately, is "it depends". Obviously, if you lack the skill to put together a guitar then a kit becomes debatable at best; if you are looking to gain experience or know exactly how a guitar goes together then you should consider a kit, but if you are not that good with your hands then this is not going to be your best option. It should be noted that if you make enough mistakes and ruin some of the components then you could lose the savings and the kit could cost more than a pre-built guitar. There is also the possibility of frustration as it could be far harder to build the guitar than anticipated.
However, for those who do it, there are a number of advantages. The biggest advantage is that guitar will sound exactly like you want it to and look like you want it to; this is usually why players go in for building their own guitars. Obviously, bragging rights are part of the package, as few people put together their own guitar. There is the knowledge to be gained from it, as well as the experience of building a guitar from scratch. The worst thing that can happen is that this creates the beginning of a new hobby, especially one that can be somewhat expensive.
Things to Watch Out For
If you do decide to build an electric guitar from a kit there are some things to keep in mind. A common problem is missing pieces and bad glue; make sure that you have all the pieces and that the parts have been correctly glued. Make sure that you have all the additional components you need to finish it, such as glue, strings, and paint. Make sure that you paint it right; nothing is worse than speeding through for a horrible paint job. Overall, building a guitar from a DIY kit can be a great thing to do, but make sure that you are ready for it.